Morani Tours & Safaris Ltd
Morani Tours & Safaris Ltd provides domestic, inbound, and outbound services for safaris and tour itinerary throughout Africa and all over the world, with a fleet of spacious comfortable 4 x 4 vehicles into the unexplored true African wilderness
More Details
Ferdinanda Safari
Travel the world one place at a time
Ferdinanda Safari is a tour operator based in Tanzania. We run and create exceptional journeys to beautiful Tanzania that will forever be unforgettable memories. Ferdinanda safari guides have the knowledge and expertise to arrange absolutely anything you like.
More details
Tasso del miele Safaris
Tasso del Miele Safaris is a leading tour operator based in the vibrant city of Arusha, Tanzania. Known for its rich cultural heritage, stunning landscapes, and diverse wildlife, Tanzania is a top destination for adventurous travelers and nature enthusiasts
More details
Safaris Tanzanie Limited
We are a reputable tour company specializing in safaris in Tanzania. We offer personalized itineraries, knowledgeable guides, and a commitment to responsible tourism. Our packages range from budget-friendly camping trips to luxury lodges, and we strive to provide exceptional customer support and safety for our clients.
More Details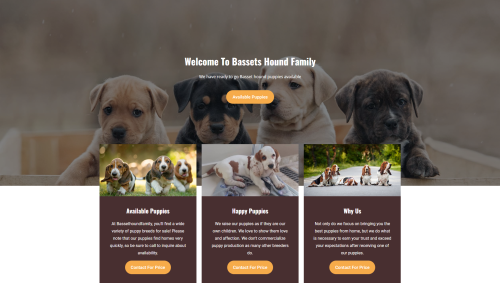 Bassets Hound Family
Basset Hound Puppies For Sale
Welcome to Bassets Hound Family, we're a family-run business that wants to help you find the puppy you've always wanted. Taking pride in what we do, we are determined to share our love for pets through a business. It is our goal to be of service to those individuals who have a passion for puppies, just like we do
More details
Vet checked Puppies
We offer all inclusive care. That means that all our boarders and day guests receive love, exercise, food and treats
Our puppies come from parents of Champions, Grand Champions and International Grand Champions. Our golden Retriever come to us from the finest catteries in the world.
More details
Always provide value. Value builds trust. Once you have that trust, you have the ability to do some selling